Regarded as one of the most versatile trumpet players in the music business, Terran influenced the Los Angeles music scene for more than four decades as a specialist of many musical styles. Tony was the last surviving member of the Desi Arnaz Orchestra from the I Love Lucy television show. He had the distinction of playing on the first filmed television sitcom (I Love Lucy), and playing with some of the first R&B combo bands to use horns in the early 1950s.
Terran was in high school when he started working on live radio shows in Buffalo, NY. In 1944, he arrived in Los Angeles after touring with Horace Heidt. In 1945, he began working with Bob Hope, and then with Desi Arnaz in 1946. His relationship with Arnaz helped shape Cuban/Latin music in the United States.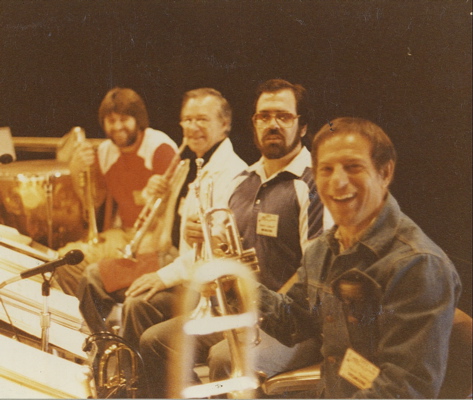 Tony Terran performed and recorded with many renowned artists including:
The Jackson 5, The Mamas & the Papas, The Beach Boys, The Beatles, The Bee Gees, Ray Charles, Neil Diamond, Chicago, Nat King Cole, Natalie Cole, Commodores, Perry Como, Bob Dylan, Ella Fitzgerald, Benny Goodman, Tony Bennett, Eartha Kitt, Peggy Lee, Madonna (I'm Breathless), Dean Martin, Elvis Presley] Bonnie Raitt (Takin' My Time), Linda Ronstadt, Diana Ross, Frank Sinatra, Sammy Davis Jr., Lou Rawls, Barbra Streisand, Baja Marimba Band, Tijuana Brass, The Carpenters, Tom Waits and Ricky Nelson.